Courier
Gambit #13-14, 16-19, 21-24; Gambit Annual 2000

During the course of a time-travel story, the X-Man known as Gambit travels back to 1891 to perform a task for the Thieves Guild. He is accompanied by Jake Gavin, the shapeshifting mutant known as Courier. To investigate a doctor acting as an obstetrician, Gambit convinces Jake to "go undercover," against his better judgement. Unfortunately for Jake, the doctor turns out to be Mr. Sinister, who wastes little time in experimenting on the shapeshifter. Gambit comes to his rescue, but not before Jake's cellular structure is locked into his latest formóleaving him stuck as a woman.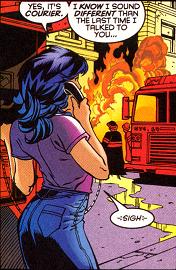 After returning to the present day, Jake (now sometimes referred to as Jacqueline or Jackie) remains trapped in her feminine form. Although uncomfortable as a woman, she seems to adapt pretty well to her new circumstances, and continues in her role as a courier to people in power, including the mysterious New Son.
Courier appears to have become a supporting character in the Gambit series, and appeared in several issues. Although the Gambit series seems to have run its course, Jackie remained female all the way through the end of the series. I suppose we can always look forward to a cameo appearance in one of the X-books...
---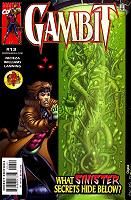 ---