Jimmy Olsen
Jimmy Olsen #67, 84, 95, 159; Bah, Hembeck! #4, Real Girl #6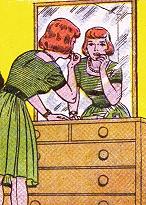 Pop quiz time. Which of the following phrases can be used to describe Jimmy Olsen, the long-time supporting character from the Superman comics?
a. Ace photographer for the Daily Planet
b. Master of disguise
c. Superman's pal
d. Closet crossdresser
e. All of the above
Okay, okay, so maybe I'm biased. He's certainly had quite a few adventures over the years, (both with and without the big guy in the cape), and given his "master of disguise" talents, I suppose it was inevitable that he'd masqerade as a girl a time or two. On the other hand, he's done it more than a few times, he keeps a stash of women's clothes with a few different outfits, and he passes as a girl so well that he gets hit on by guys. DC Comics might disagree with me, but if the high heel fits...
Labels aside, however, Jimmy has had a few adventures in skirts. Presented here are four complete stories from the Jimmy Olsen comic featuring the young photographer showing his feminine side.
---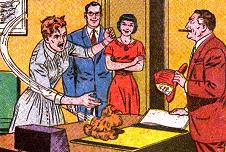 Leslie Lowe, Girl Reporter!
Jimmy Olsen #67, March 1963
After quitting his job at the Daily Planet, Jimmy enters the job market to discover that the only positions he can find are for girls. He disguises himself as "Leslie Lowe" and returns to the Planet, planning to screw things up so badly that Perry White will jump at the chance to hire him back as Jimmy. Unfortunately, things don't go as planned...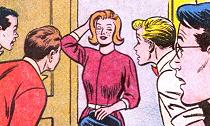 Jimmy Olsen's Female Fan!
Jimmy Olsen #84, April 1965
Yes, it's true...Jimmy Olsen has a fan club. (I guess this is for the guys who couldn't make it into the Superman fan club.) Anyway, after the current president of the club moves away, a contest is held to replace him. But in the meantime, the members are faced with the most alien and terrifying thing they've ever encountered—a girl!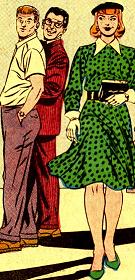 Miss Jimmy Olsen!
Jimmy Olsen #95, September 1966
Jimmy goes undercover as a showgirl to track down some stolen jewels. Unfortunately, his disguise is too good, as "Julie" catches the eye of one of the gangsters...
(Note that this comic was already on the site under the "Other Heroines" section, but I've also included it here for completeness.)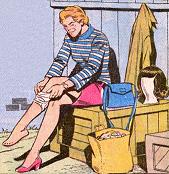 The Day They Unmasked Mr. Action
Jimmy Olsen #159, August 1973
Framed for a crime he didn't commit, Jimmy finds himself on the run from the law, searching for the one-armed man who... Oh, wait, sorry. This one just has him dressing up like a girl to avoid the cops.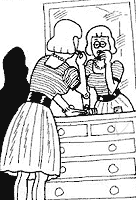 Superman's Favorite Transvestite, Jimmy Olsen
Bah, Hembeck! #4
Submitted by Bunnyman
Here's an amusing little find. Apparently, Fred Hembeck had also noticed Jimmy's predisposition for dressing up, and put together a few pages highlighting the photographer's adventures in drag. The stories are all presented above, but the commentary makes this a fun read.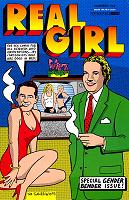 Stupergal's Slave, Jimmy Ogler
Real Girl #6
In this short parody piece, we discover that while "Stupergal" is away on a mission, Jimmy proceeds on a mission of his own involving her costume...
---