Thor, Goddess of Thunder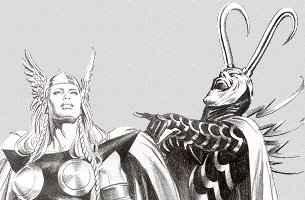 It must be the hair.
I mean, when you consider comic book characters to potentially transform into women, the Norse god of thunder isn't one that generally leaps to mind. However, considering that Thor likes to wear his blond hair as long and loose as your average shampoo model—earning him the nickname "Goldilocks" from his teammates—I guess he was kind of asking for it.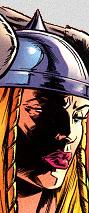 In this roundup of images featuring the Asgardian amazon, the majority come from an ongoing series of books told in an alternate future of the Marvel universe dubbed "Earth X." It's an epic story being told in three series of books (each about 12-15 books long): Earth X (now in trade paperback form), Universe X (ongoing), and the upcoming Paradise X. When the story started, Thor had already been transformed into a woman, the victim of his crafty brother Loki's schemes...apparently Loki managed to convince Odin that Thor needed another lesson in humility, and turning him into a woman would do the trick. (Little brothers are such a pain.) Unfortunately, since the epic spans the entire Marvel universe, Thor is something of a bit player, and only pops up from time to time.
The other two stories are taken from Marvel's "What If" books, suggesting alternatives if either Jane Foster (the girlfriend of Thor's human alter ego, Don Blake) or Rogue (late of the X-Men) had inherited the powers of the god of thunder. In these instances, Thor becomes a woman because his "host body" (for lack of a better term) is female. However, since the womens' personalities remain in control, they don't see anything wrong with that, but it does make for a few interesting moments when the "son of Odin" drops in on Asgard...
---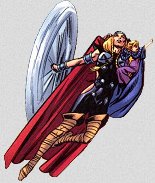 Earth X
Earth X #1, 5, 6, 7, 8, 12 (All collected in Earth X trade paperback)
Earth X Special Edition (Shipped with Wizard #77)
Universe X #0, 5-11, X
Universe X: Beasts
Universe X: Cap
Universe X Omnibus
Universe X Sketchbook
Paradise X Preview
Covers and Posters

What If Jane Foster Had Found The Hammer of Thor?
What If? Vol.1 #10

What If Rogue Possessed The Power of Thor?
What If? Vol. 2 #66
Okay, this one needs a little setup. This particular "What If" scenario takes place back when Rogue was one of the bad guys, hanging out with Mystique and the rest of the Brotherhood of Evil Mutants. At the time, Rogue was heading over to help break out her comrades, but ran into some trouble on the way...
---