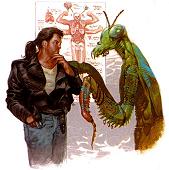 The Xixchil
Dragon Magazine #266
The xixchil are a mantis-like race who are skilled surgeons with the ability to modify the bodies of themselves and other races. They offer their services as "body sculptors," and can achieve a wide variety of effects, from changing eye or hair color, adding body armor, or even changing a client's gender.
Gender Change
The xixchil gender-change operation involves changes to the client's chromosomal pattern, administered through the xixchil's saliva. The process takes a full week, during which time the patient is kept sedated and paralyzed. Although not a magical process in itself, the gender change can reverse magical changes of sex such as those brought about by a girdle of masculinity/femininity or a magical curse. It should noted that there isn't much a xixchil can do about a victim being turned neuter as a result of overuse of girdles of masculinity/femininity. The standard cost for such an operation is 2,000 gp.
---
There was also a short story accompanying the article which mentioned this capability. Here is the relevant excerpt:
With a start, she realized that the customer had stopped talking and was looking at her quizzically. "Forgive me," she trilled, "I was lost in thought. Perhaps we should go over your needs item by item." She racked her brain, trying to recall what he had been saying for the last few minutes. "Your main concern is being recognized," she said.
"Yeah, that's right," agreed her client, rubbing his unshaven chin with his hand and darting his eyes nervously at the shop's windows. "I got some people, you know, looking for me."
"You wish me to alter your appearance," reasoned Darter.
"Yeah. Can you do it?"
"Certainly," replied the xixchil. "How much do you wish to change?"
"Whaddaya mean?"
"We can change as much or as little of your body as you like. If you wish to keep costs down, we can simply change the color of your eyes, your hair, your skin. For a higher fee, we can alter the bone structure in your face, shorten or lengthen your stature, add mass to your frame. Or, we could change your gender. You are male, correct?"
"Huh? Yeah, 'course I am."
"Well, then it's a simple matter of removing your—"
"No, no," the customer winced, raising his hands as if to ward off the xixchil, eyes fixed worriedly on the sharp blades of Darter's wicked-looking forearms. "Nothin' like that," he amended, swallowing hard.
Darter cocked her head quizzically to the side and stared at her customer, waiting.
The human licked his lips again nervously, then smiled. "Heh," he said. "That 'turn me into a girl' stuff, you was just jokin', wasn't cha?"
Darter just stared impassively.
The human cleared his throat and swallowed again, unsure of what to make of the giant insect. "I, uh, I think I'll just do that hair and eyes thing you said," he said.